Role Call: T.J. Bass Brings Versatility to O-Line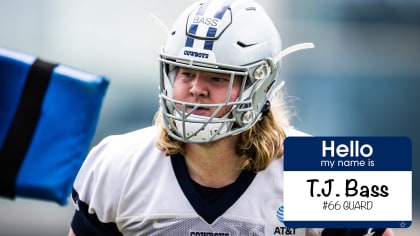 (Editor's Note: With the offseason program in the rearview mirror, it's time to look ahead. As part of the preparation for training camp, this series will introduce 25 key players who are new to the Cowboys' roster, rookies and veterans alike. We'll continue with guard T.J. Bass.)
How He Got Here: A native of Deming, Wash., offensive lineman T.J. Bass did not have any offers out of his 1A high school and instead opted to go the junior college route where he starred at Butte College in Northern California for two seasons before finishing his college career at Oregon. As a senior, Bass was named first-team All-Pac 12 for the second time while also earning a second-team All-American honor by The Athletic. While Bass was mainly featured at tackle during his time in Eugene, Dallas saw an opportunity to open up Bass' versatility which led to the Cowboys picking him up as an undrafted free agent at the conclusion of the 2023 draft.
What's Next: With opportunity still open and available on the offensive line going into 2023, Bass is not an exception to the long list of offensive linemen vying for firm placement in the second tier of the depth chart. As either a guard or tackle, Bass has potential in the NFL to make an impact, and that chance could come sooner rather than later if a strong training camp and preseason puts him in a position to capitalize on any injuries that could occur up front this season.
Bet You Didn't Know: Bass is one of seven junior college products on the roster for the Cowboys (Josh Ball, DeMarcus Lawrence, Eric Scott Jr., Tyrus Wheat, Sam Williams, Nahshon Wright), giving the franchise the most active players of any team in the league that went the JUCO route.
Quotable: "It looks like football comes pretty easy to him. He doesn't blink, and that's a real pro attribute for a young player. He has a subtle fire confidence to him. He seems very natural and I feel strongly that we'll have position flex [with Bass]." – Mike McCarthy in his final minicamp press conference about Bass' early play.
---
& nbsp;Here are some recommendations for shirt designs in the same theme that you may be interested in: